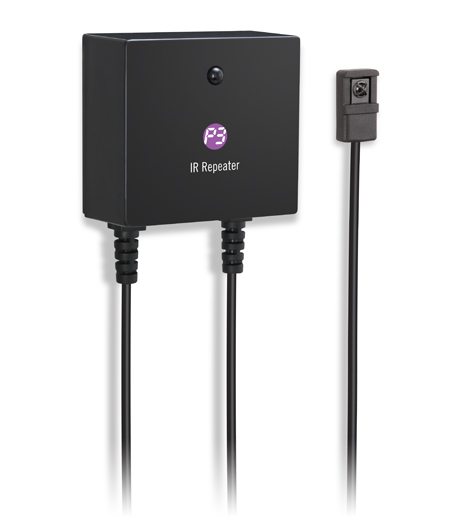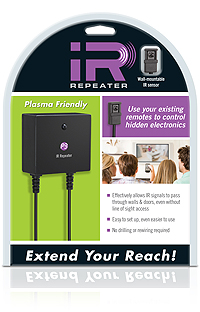 Bulky electronics cluttering your living room? Cable box, stereo amplifier, CD, DVD and Blu-ray Players a dominant part of your home décor? Now it doesn't have to be with our low cost IR Repeater. The ideal solution to operate your hidden electronics from plain view using your existing remotes. An easy to use, home theater accessory with a built-in IR distribution technology to give you the ability to hide but still control your electronic equipment.

The Infrared Sensor receives the IR signals from your remote and distributes those signals via an IR emitter to your electronics. You'll never have to leave your cabinet doors open giving you a clean, seamless finish while enjoying your entertainment from your favorite chair!
• Use your existing remotes to control hidden electronics
• Effectively allows IR signals to pass through walls & doors, even without line of sight access
• Wall-mountable IR sensor
• Easy to set up, even easier to use
• No drilling or rewiring required
Specifications
Model: P8620
Power supply: 5VDC Adapter
Power Consumption: 0.5 Watts
Dimensions: -
IR Repeater: 2 3/16″ x 2″ x 1 1/8″
IR Sensor: 3/4″ x 1/2″ x 1/4″
Weight: 4 oz.


Specifications subject to change without notice