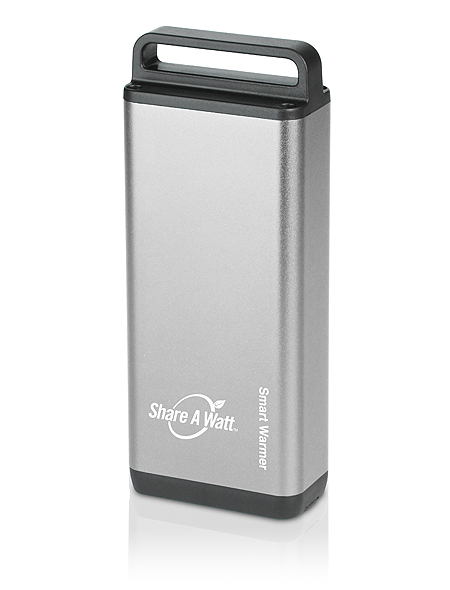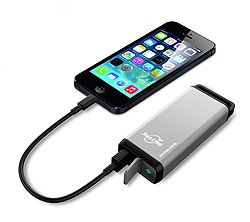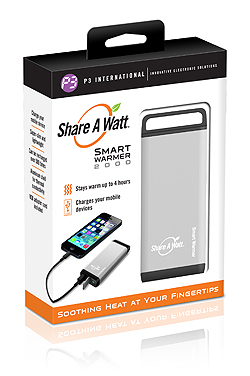 Is winter freezing your fingers and draining your phone? Solve both problems with our convenient Share A Watt Smart Warmer 2000. Lightweight and compact, you can take it with you anywhere that you might need soothing heat or an emergency phone charge.

Switch it on, slip it into your pocket and in as little as 60 seconds your hand will start to feel the comforting warmth When your cell phone is running out of juice just plug it in and enjoy a backup power supply where ever you are.

Recharging is simple. Power up at your computer with the included USB cable and you're good to go in as little as 1 1/2 hours (3 hours for a full charge).

The Share A Watt Smart Warmer 2000 is ideal for winter activities as well as in air conditioned offices. Take it with you on your morning commute or when you're hiking or camping.
• 2000mAh Power bank
• Weather resistant construction
• Stays warm up to 3.5 hours
• Charges your mobile devices
• Can be recharged over 500 times
• USB adapter cord included

Specifications
Model: P8465
Quick Charge: 5V/1A
Power supply: Micro USB 5V/1000mAh max
Built-in Battery: 3.7V/2000mAh Lithium-Ion
Surface Temperature: Up to 112 degrees Fahrenheit
Warming Time: Up to 3.5 hours
Charging Time: Up to 3 hours
USB output to mobile phone: USB 5V/1000mAh max
Dimensions: 1 5/8″ x 7/8″ x 4″ (LxWxH)
Weight: 3.6 oz.


Specifications subject to change without notice