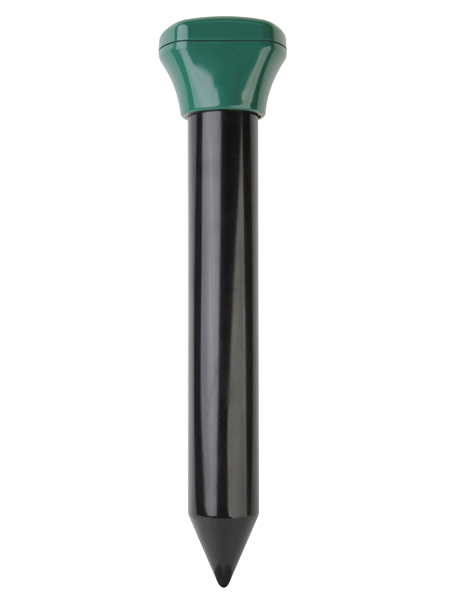 The Mole & Gopher Chaser is an environmentally friendly and cost-effective way to get rid of moles, voles, gophers, shrews, and other burrowing rodents. This is a great solution to stop pests from destroying your lawns, gardens, or farms.

The unit gives off penetrating sonic pulses that irritate burrowing rodents and ultimately lead to them moving on to a new home. This unit has a special mow over design which can be buried flush with the ground.

Moles, voles, shrews, gophers and other destructive burrowing rodents "can't hide anymore" with the Mole & Gopher Chaser.
• Up to 6,000 Sq. Feet Coverage
• Rodents Chased Away Unharmed
• Mow Over Design
• Water Resistant
• Does Not Affect Pets
Specifications
Model: P7940
Power: 4.5 V DC
Battery: 3 x D Batteries
Battery Life: Up to 6 months
Frequency: 400 Hz +/- 10 %
Duty Cycle: Approx. 45 sec.
Coverage: Up to 6000 sq. feet
Weight: 4.2 oz.
Dimensions: 12″ x 2″ x 2 1/2″


Specifications subject to change without notice