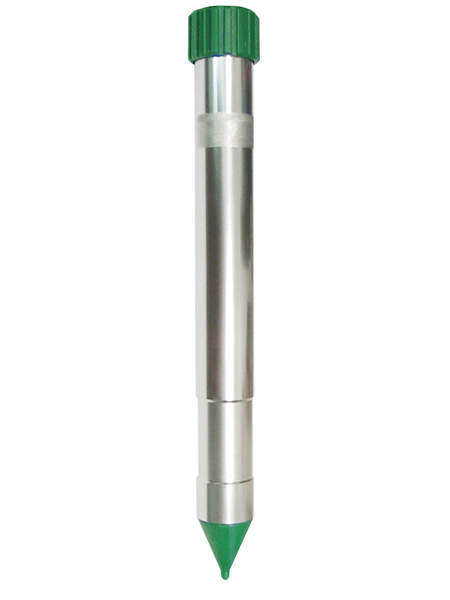 The proven way to keep your lawn and garden rodent-free.
Why use poisons and traps around your children and pets? The original Sonic Molechaser® is the most humane and environmentally friendly way of minimizing damage to your gardens and lawns by moles, voles, shrews, gophers and other destructive ground rodents.
Approved by consumer groups and tested by a U.S. certified laboratory, the Sonic Molechaser® is a proven problem solver. This ingenious device produces a penetrating underground sonic pulse of 300 Hz at 15 second intervals, covering up to 11,250 square feet (1/4 acre). Pets won't be affected but rodents find the noise irritating and move to quieter surroundings.
Constructed from a single billet of aluminum, the unit's discreet green-colored control head is watertight and can be buried flush with the lawn, so it does not detract from the appearance of your lawn or garden. Batteries can be changed without removing the unit from the soil. A lifetime warranty guarantees lifetime performance.
• Up To 11,250 Sq. Feet (1/4 Acre) Coverage
• Bury Flush With Ground For Easy Mowing
• Rodents Are Chased Away Unharmed
• Does Not Affect Pets
• Laboratory Tested And Approved
• Convenient Battery Charge Cylinder
• 100% Waterproof
Specifications
Model: P7900
Power: 6V DC
Battery: 4 X D alkaline batteries
Battery Life: 4-6 months
U.S. Patent Number: 6157594
Frequency: 300 Hz
Duty Cycle: 15 seconds
Coverage: 11,250 sq. feet (1/4 Acre)
Weight: 11.5 oz.
Dimensions: 16″ X 2″


Specifications subject to change without notice