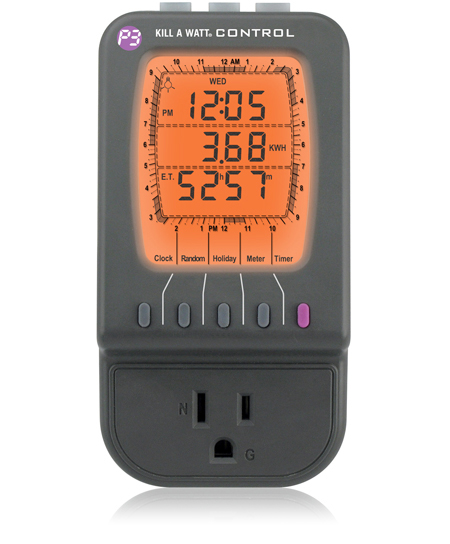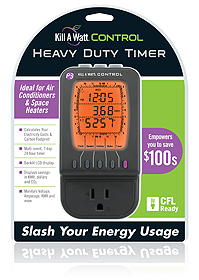 Electricity Usage Monitor & Automatic Timer
Now you can control your valuable electronics and find out what they are actually costing you. Simply connect your appliance to the Kill A Watt® Control and it will track electricity consumption and display it in Kilowatt Hours. You can then program ON/OFF periods to save electricity and money. Using our patent pending Save A Watt® technology, the Kill A Watt Control combines the advantages of traditional mechanical and electronic timers. It is easy to program the quarter-hour ON/OFF periods for 7 days and 24 hours as you would program a mechanical timer.
With the Kill A Watt Control, you are not limited – the unit allows unique programs for each of the 7 days of the week. The easy-to-read LCD display allows you to review and adjust your ON/OFF programs easily. Measurements and programming are stored in memory and retained during power outages. A backup battery (3X AAA batteries – not included) allow programming even when the unit is not plugged in.
• Combination multi-event, 7 day/24 hour timer and electric consumption monitor
• Easy to read, backlit LCD display
• Surge, over current, over voltage, and under voltage protection provide
clean safe power
• Soft power-up eliminates harmful voltage spikes
• Check the quality of your power by monitoring Voltage, Amperage, KWH and more

Specifications
Model: P4482
Operating Voltage: 120 VAC
Max Voltage: 125V
Max Current: 15A
Max Power: 1875 VA
Batteries: 3X AAA (not included)
Weight: 9.5 oz.
Dimensions: 5 3/8″H x 2 3/4″W x 2 3/4″D


Specifications subject to change without notice