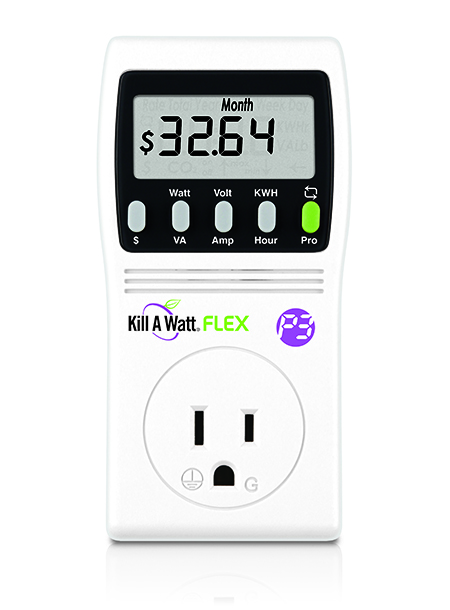 Take control of rising energy costs with the new Kill A Watt Flex. Simply plug it into an outlet and then connect an appliance and find out how much electricity it uses.

The large, easy-to-read LCD shows power consumption and converts it into a dollar figure so you can know how efficient (or inefficient) your appliances are. Learn how much a device is costing you by the day, week, month or even year.

Cycle Mode guides you through additional product features making it easy to use more advanced monitoring functions including estimating CO2 emissions. Built-in memory retains measurements even if there is a power outage. Perfect for detecting voltage drops and brownout conditions by evaluating the quality of the electrical power provided from your utility company. Monitor voltage (Volt), and line frequency (Hz) to find out if your delicate equipment is being exposed to possible damage.

With the Kill A Watt Flex you'll learn how simple it is to slash your energy usage!
• See the cost of an appliance by
DAY
WEEK
MONTH
YEAR

• Cycle Mode guides you through product features

• Stores Minimum and Maximum readings in Memory

• Estimates CO2 Emissions

• Accurate and easy to use

Specifications
Model: P4456
Operating Voltage: 115 VAC
Max Voltage: 125 VAC
Max Current: 15A
Max Power: 1875 VA
Weight: 5 oz.
Dimensions: 5 1/8″H x 2 1/2″W x 1 1/2″D


Specifications subject to change without notice