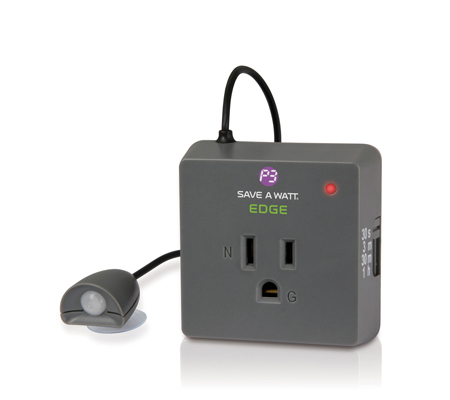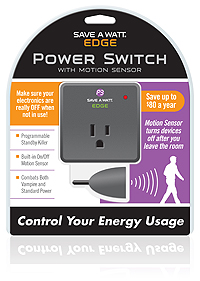 The devices that are essential to modern life are numerous, so who can keep track of what has been left on or turned off? This can cause an unwanted surprise when you receive your inflated electricity bill. Make sure the devices that are costing you the most are always in, "real" off mode with the Save A Watt® Edge.

The Save A Watt Edge is an easy to use timer that is equipped with a tethered motion sensor to detect when there is activity in the room. Whatever device is plugged into the timer will cut off vampire and/or standard power when not in use in accordance with the time increment of your choice, as displayed on the side of the timer. Use the Save A Watt Edge when plugging in power strips so that almost an entire room may be shut down during the long periods of time that you are not inside them.

You have enough on your mind on a daily basis, the last thing you need to worry about is if you left the coffee pot on in the morning or the kids leaving the TV on when they go outside to play. The Save A Watt Edge is a fantastic tool to aid the reduction of your energy consumption and electricity bills.
• Programmable Standby Killer
• Built-in Motion Sensor
• Combats Both Vampire and Standard Power
Specifications
Model: P4170
Power Rating: 120 Vrms ± 10% 60Hz
Power Consumption: Max. 0.5 Watt
Ratings: 10Amp,1320 Watts, Resistive and Inductive
600 Watts Tungsten, 1/3 H.P. 120 V.A.C
Dimensions: 2-1/2″W x 2-1/2″D x 2-3/8″H
Weight: 4 oz.


Specifications subject to change without notice