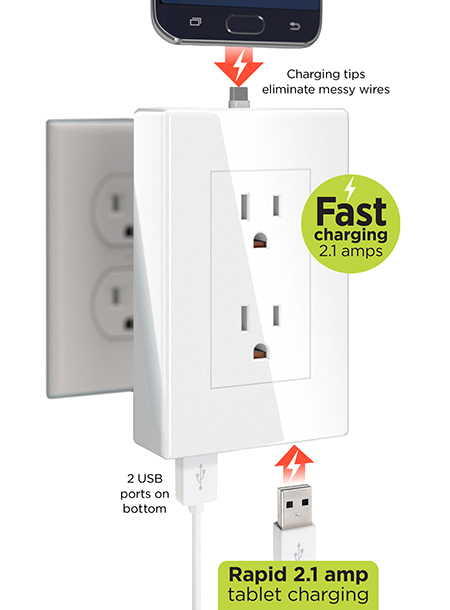 thingCHARGER 2X is the simple, elegant new way to charge all your things. Just plug it into any outlet and you'll have a neat charging station — free of ugly wires. Charge any phone, any tablet, any reader from any brand.

Just plug thingCHARGER 2X into any wall outlet and the regular outlets on the front remain live for everyday use. Interchangeable tips adjust in height to fit your device, with or without a case. When not in use the tips store neatly in the back. 2 USB outlets are available underneath.
• Charge any phone, tablet or reader with or without case
• Interchangeable tips included
• Plugs into your existing outlet
• Outlet plugs remain usable

Specifications
Model: P3190
Charger Output: 5V DC, 2.1 A
Types: Interchangeable Charging Tips & Twin USB-A Outlets
Input Voltage: 120 V AC (+/- 10%) 60 Hz
Charger Input Current: 0.3 A Max
Operating Temperature: 32-104° F (0-40° C)
Weight: 5.5 oz (156 g)
Dimensions: 3 x 4.75 x 1.85 in.


Specifications subject to change without notice