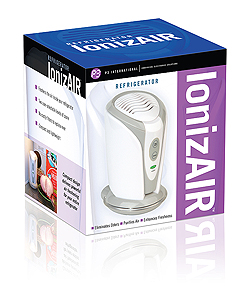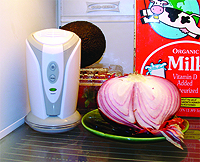 When is negative a positive? When it comes to clean air!
The Refrigerator IonizAIR™ is engineered to neutralize odors and freshen the air inside your refrigerator. Its simple cordless design doesn't require filters and produces crisp fresh air using advanced ionic technology to generate negative ions and two user-selectable levels of powerful ozone. This compact purifier reduces food odors before they are absorbed by other foods and kills certain bacteria allowing food to stay fresh longer.
• Freshens the air inside your refrigerator
• Two user-selectable levels of ozone
• No costly filters to replace ever
• Compact and lightweight

Specifications
Model: Q1150
Features: Two power levels
Batteries: 3 AA (not included)
Battery Life: Up to 10 months
Dimensions: 4 1/2″H x 2 1/2″ x 2 3/4″
Weight: 6 oz.


Specifications subject to change without notice