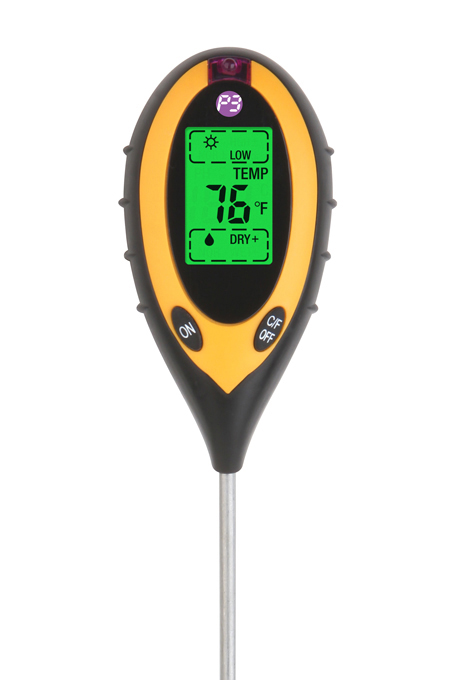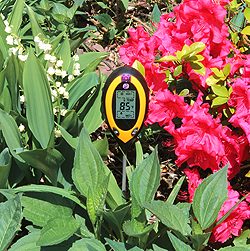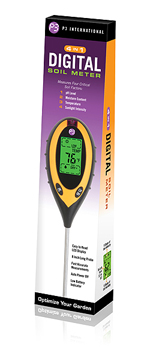 The 4-in-1 Digital Soil Meter allows you to measure the Moisture, pH level, Temperature, and Sunlight Intensity of your planting beds to insure the best growing environment. Ideal for gardeners whether growing flowers, fruits or vegetables, as well as trees, grass and shrubs.

Simply insert the 8 inch probe into the soil, switch to the setting you want and the LCD will quickly display the accurate measurement. Shows pH values of 3.5 to 9.0 as well as 5 stages of Soil Humidity. Temperature is measured between 15° to 120° F and Sunlight intensity is shown in 9 stages.

Use it indoors and out to optimize your garden or greenhouse. Great for problem lawns where it's difficult to get grass to grow. Auto power off feature insures long battery life.

With the 4-in-1 Digital Soil Meter you'll always know what your plants are in need of.
• Easy to Read LCD Display
• 8 Inch Long Probe
• Fast Accurate Measurements
• Auto Power Off
• Low Battery Indicator

Specifications
Model: Q1100
Power Supply: 9V
Measuring Range: Temperature - 15 F to 120 F ( -9C to 50C)
- pH - 3.5 to 9.0
Soil Moisture: 5 stages ( DRY+ to WET+)
Sunlight Intensity: 9 stages (LOW- to HGH+)
Dimensions: 2 1/2″ x 12 1/2″ x 1 1/2″ (63 x 315 x 36mm ) without probe protection cap


Specifications subject to change without notice